CANstruction 2017. We were pumped. Our office had never done CANstruction before and our architecture firm, JZMK Partners, was teaming up with a civil engineer, Fuscoe Engineering, and a homebuilder, The New Home Company—collectively called the "CANcrusaders"—to get the job done.
So what is CANstruction? It's a design build charity in which architects, engineers, homebuilders, and students come together to create statues (or "CANstructures") out of full food cans and other food items. The structures are judged on best design, use of labels, best meal, and most cans. After the judging and a public exhibition, the structures are dismantled and then donated to the food bank, to help feed hungry families in the local community.
Previous CANstruction winners have been pretty impressive.
The competition was not going to be easy. Additionally, we decided early in the competition that we wanted our donation to the OC Food Bank to be a meaningful one, with nutritionally rich food products.
With that in mind, we started coming up with ideas.
The CANstruction timeline is as follows:
Make a team & Choose a design.
Fundraise.
Purchase cans and materials.
Practice builds.
Build night.
Judging and de-CANstruction.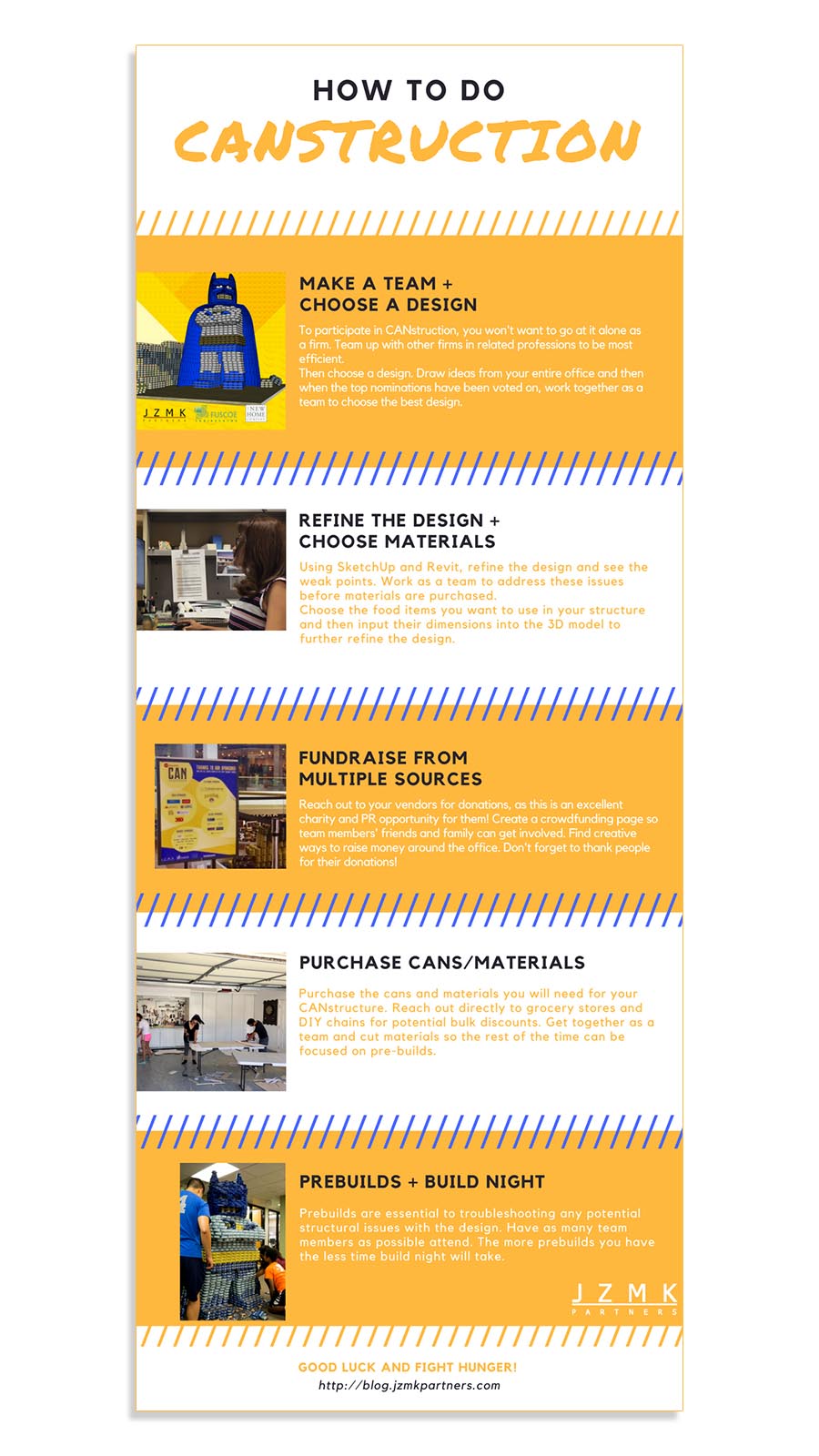 1)  Make a team and choose a design.
This was our first year doing CANstruction so there was a big learning curve. However, that learning curve would have been massive if we hadn't teamed up with our firms in related industries. Fuscoe Engineering had done CANstruction in 2015 teaming up with a different architect. Their "lessons learnt" and insight into the process were invaluable and allowed our team to create something we could really be proud of.
Now choosing a design, that was a challenge.
As you can imagine, with ours being a creative profession, there was a lot of debate about what our CANstructure should be. Our process started off with individual nominations and voting in each office. Then, the CANstruction team members from the three offices got together and chose between the winning design.
The process sounds straightforward, but when you're working with a creative team and the PR considerations for multiple companies, it's anything but. We even ended a couple of meetings with more designs to choose from than we'd started with.
Lessons learnt:
Start off the selection process with key criteria in mind. Some of these things don't necessarily occur to you when you're coming up with ideas, but end up being deal-breakers when it comes to a design to represent your firm.
Is the design taking full advantage of the medium? You don't want a design that's going to need to be constructed entirely out of something non-nutritional and flat (i.e. tea bags or candies).
Is the design a character? If so, is it a "good guy" or a "bad guy"? It doesn't seem like a big deal—it's a fictional character, you may ask, who cares?—but one of the designs popular amongst our team, a Death Star/Darth Vader mashup, was rejected on the basis that being represented by a fictional villain was a bad PR move. Even if he's a really cool villain.
Is the design recognizable? If so, is it something people will get excited over? One of our early concepts was a Jenga tower. Pretty cool. Definitely recognizable. But maybe not the most exciting design.
Ultimately, we settled on LEGO Batman. Of course, this began another round of critique and refining whilst we decided on colors and details, but we had something to work with.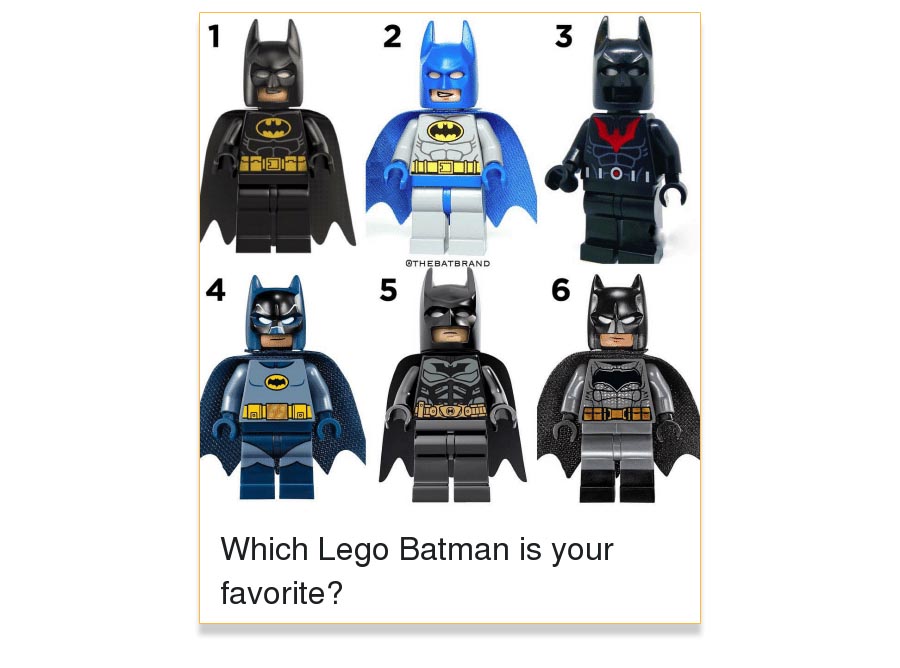 We initially chose a black costumed Batman, but following can research we determined that that would be both too expensive and too imposing and instead opted for grey and blue.
We ended up creating boards based on our can research to help us choose the right colors: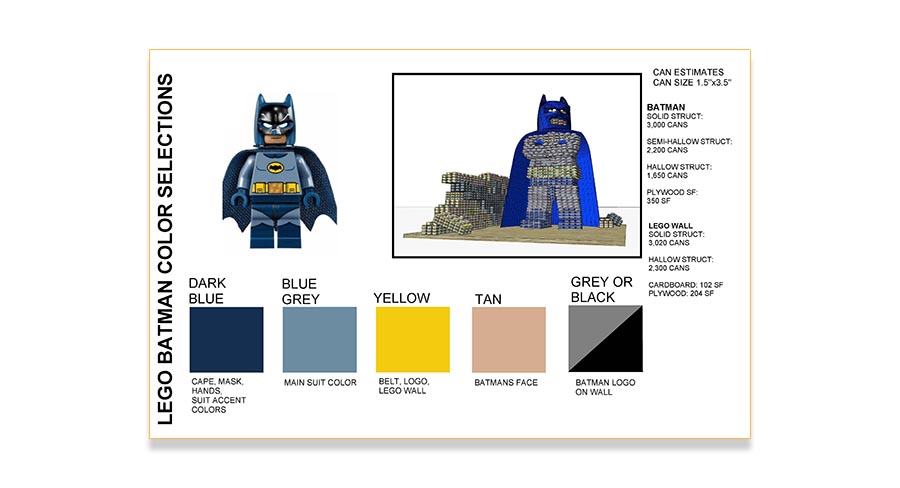 That is really when our design process took a turn for the excellent.
Using Revit and VR technology to efficiently design for CANstruction
Virtual Reality technology is an incredible tool in the architect's tool-chest. We've spoken previously on our blog (LINK) about how we're using it at our firm for our architecture and planning. CANstruction presented a great opportunity for our team to become even more comfortable with this innovative tool and ended up saving our team time and money.
Revit Software was used to create the 3D model for structure which led to an optimized Design within a short period of time.
Since choosing a proper concept was dependent to the cost of the structure, providing a 3D model using Revit gave us a good estimation of the cost based on the can counts and plywood measurements which was generated directly from underlying model. This made the process of the decision making much easier and efficient for our team.
The Revit model was transformed into Virtual Reality (VR) to iterate and improve our design to view our "LEGO BATMAN" from any angle and distance at human scale before construction phase.